Reading Time:
3
minutes
Ada yang belom tau karakter utama di film Halloween ini? Tenang aja, di sini kita ga bakal bahas sampe tuntas2 banget. Lantaran Saya pengen lu semua nonton juga. Buat yang ngerasa masih kelewat muda buat noton film "jadul" ini, bisa nikmatin penampilan dia di versi rebooth karya Rob Zombie (2007). Ga baru2 amat ya ternyata… tapi cukuplah. Kalo rajin browsing, Michael Myers juga muncul dalam aneka film fan-made.
Michael Myers juga disebut sebagai "The Shape" lantaran mukanya yg ga jelas bentuknya itu. Ga jelas alias jelek? Bukan… ini ga jelas lantaran… ga jelas mau deskripsiin gimana. Bayangin aja kalo suatu saat lu jadi korban dia, terus harus jelasin ke polisi tentang muka dia… emang bisa? Kan u pasti udah mati kalo jadi korban dia sih.
Muka ga jelas ini ada sejarahnya yang unik tapi ga keren2 banget, dikisahkan bahwa muka ini diambil dari latex muka Kapten Kirk yg ada di lokasi shooting. Wuih… trivia sekali yah? Tapi gak plek diambil kok…ada modif2 dikit. Jadi bener yah isitilang "good artist steals"?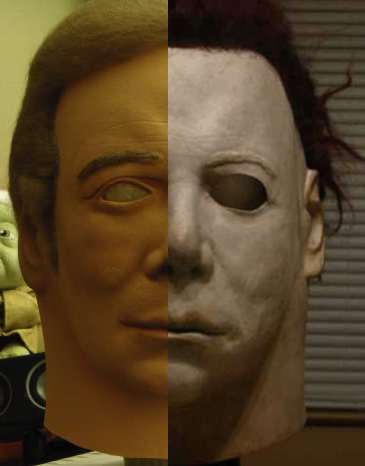 Menurut Saya sih ya… ini karakter horor yang paling menyalahi ilmu fisika. Gimana gak? … ((100*x) * langkah calon korban)=(1* langkahMike). Gila kan? Ini jadi bulan2an banget di film Scream (1996). Tapi gak masalah dong… mungkin ini kelebihan dia sebagai orang suci. Loh kok suci sih? Ya iyalah… perhatiin dong korban2 si Mike ini… rata2 ya remaja yang mau melakukan adegan kimpoy. Nah, kesel kan lu? Makanya jangan nakal yah… ga usah pengen buka2an deh kalo belom waktunya. Tar kena sabet "golok pembunuh naga" si Mike loh.
Senjatanya yang balap2an gedenya sama senjata Jason Voorhees ini gak selalu diandalin buat ngebunuh kok. Ada juga adegan yg dia "ngupas" leher orang waktu nyetir pake tangan. Sumpe?!? Iya… pake tangan gitu dikupas, padahal mobil lagi jalan. Mati ga? Gaklah…paling kaya dikitik2.
Pertama kalo muncul di layar lebar (walau Saya nontonnya di kaset beta [mungkin keluaran Indonesia Timur]) di film Halloween "aja" (1978) diperankan oleh Tony Moran. Film ini enak diingetnya, cuma nambahin angka romawi aja di belakangnya. Bentuknya ga banyak perubahan, lantaran modusnya juga ga banyak sih. Pokoknya ada aroma PG+18… dia bacok. Kayanya dia gak suka aja kalo Haddonfield, kota kelahirannya dikotori hal2 mesum. Ya gara2 kakaknya sih, Judith (Sandy Johnson) ngasih teladan yg gak2. Jadi kalian kalo mau mesum… jangan keliatan adeknya yah, tar dia jadi kaya Mike loh… hiii serem yah?
Eeeeh… Mike malah absen dan cuma nongol sebagai cameo doang di salah satu film Halloween : Seasons of The Witch. Ngawur deh pokoknya. Tapi di Halloween 4 dia balik lagi kok menebar teror. Di sini ceritanya tuh udah 10 tahun dari pembantaian dia terakhir.
Lalu nama Mike Myers pun jadi ambigu citranya waktu film keren ini muncul :
Tapi lalu…
JEJENG!!!
Rob Zombie (pentolan White Zombie) memperbaiki citra horor Mike Myers (Tyler Mane) dengan reboot Halloween nyaris 30 tahun kemudian (2007 & 2009) dengan penampilan Mike yg lebih gahar, besar dan rustic…halah! Penuturan ceritanya sih lebih mudah dimengerti yah… yang ga mau puyeng dan ribet bisa langsung nonton versi reboot ini. Dan yang jelas, kupinglu bakal lebih terhibur di sini.
Banyak penggemar Halloween klasik ngerasa kalo versi reboot ini ga asik. Kalo Saya sih… yg cuma sebagai penikmat, ya asik2 aja. Malah enak kok, jadi gas usah referensiin ke tahun2 yang kelewat jadul kalo cerita ke orang. Sama halnya kaya kejadian ngomong ke anak Saya, "kamu ga tau film Punisher Thomas Jane itu film Punisher yg kedua? Papa tuh nonton yang pertama (Punisher versi Dolph Kamundgren) waktu papa masih SMP tau gak?".
Demikian…