adsense
Reading Time:
3
minutes
Wanita yang namanya gak bisa Saya tulis tanpa harus nyontek ini adalah seorang model asal Ukrania, sebuah daerah dekat Rusia dan Polandia tapi jauh dari Indonesia. Dia menjadi terkenal karena usahanya yang merubah dirinya menjadi betul-betul mirip dengan Barbie. Gak percaya? Coba lihat nih…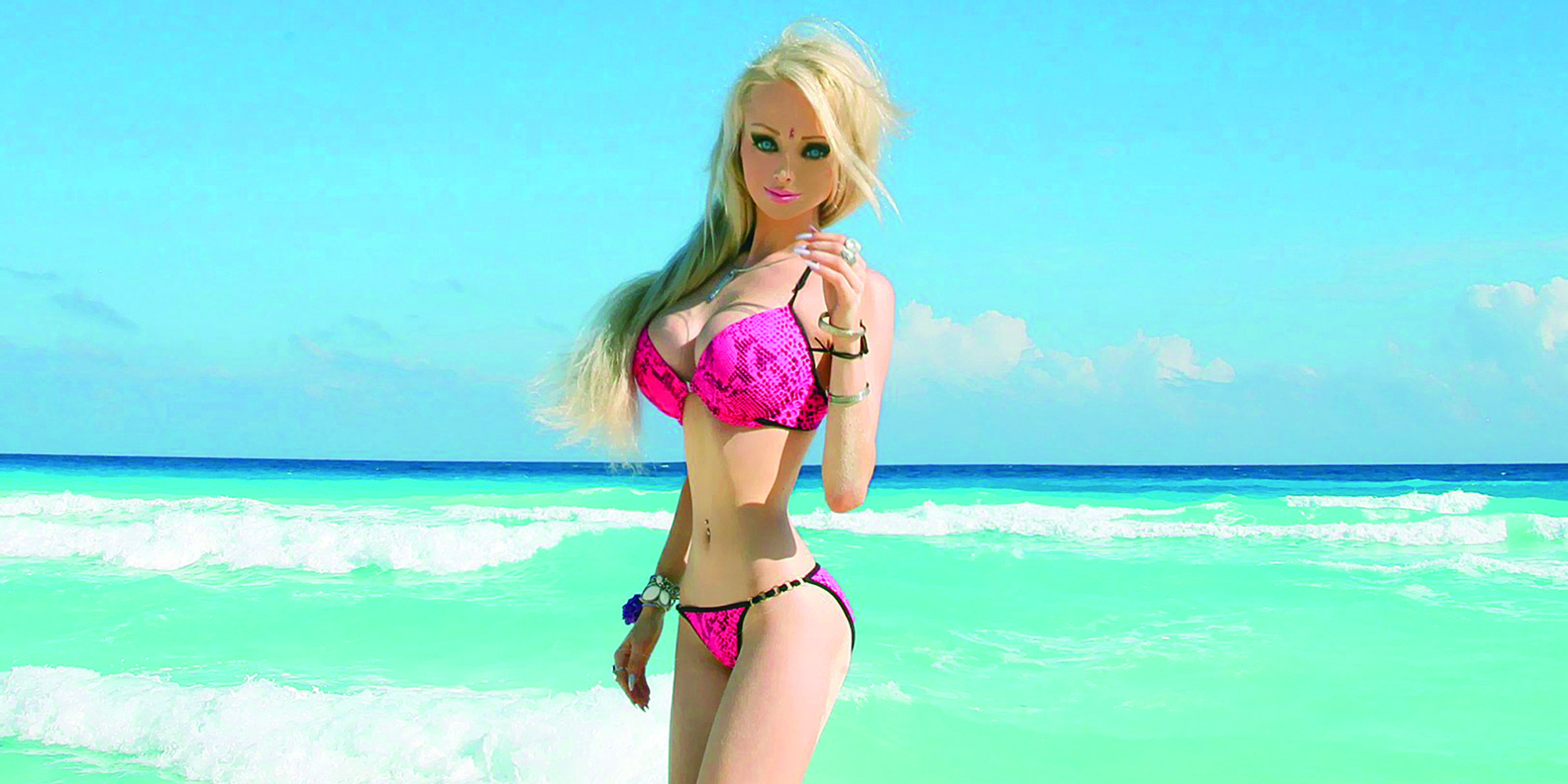 Masih gak percaya dan mikir ini editan? Duh, gimana lagi ya biar percaya? Tapi jujur awalnya Saya pikir ini tipe ala-ala Barbie yang sering Saya liat berseliweran di dunia maya lantaran jadi korban Camera 36juta, lantas Saya tersandung sama videonya yang di bawah ini…
Di salah satu video ditunjukin kalau cewek satu ini melalui proses operasi plastik dan bukan pakai susuk atau pelet… Halah! Tapi apakah prestasinya semaju hasil operasiannya? Yang jelas order terus berdatangan sejak doi oplas dan jadi human Barbie ini. Setidaknya itu yang kelihatan dari akun Faceboknya. Dan Saya gak kaget sih begitu lihat banyak banget temen FB Saya yang udah nge-like Facebooknya. Yang jelas mereka bisa Saya cie cie nanti…
Karya dan Prestasi
Kalau lu punya temen yang bisanya nyinyir aja, coba lu suruh dia baca hasil comot dan pemerkosaan Google Translate dari Wikipedia di bawah ini:
Pada tahun 2007, Kamukyanova memenangkan kontes kecantikan seluruh dunia "Miss Diamond Crown of the World". [6] [7] [8] Kontes kecantikan terbuka untuk wanita mana pun, memiliki sekitar 300 kontestan, dan tidak memiliki aturan melarang operasi plastik atau modifikasi tubuh. [9] [10] Dia kemudian memiliki beberapa sesi foto dan wawancara yang dipublikasikan di media Rusia, termasuk foto erotis. [11] [12] [13] [14] Kamukyanova mengembangkan pengikut di seluruh dunia untuk penampilan boneka Barbie-nya setelah dia memposting foto dan video dirinya di web. [15] Dia mendapatkan ketenaran setelah laporan tentang "kecantikannya yang hampir tidak manusiawi" muncul secara online. [Rujukan?] Liputan penting pertama darinya dari luar Rusia ada di blog Izebel, diikuti oleh sesi foto di V oleh Sebastian Faena. [15] Media menggambarkannya sebagai boneka Barbie yang hidup. [16] [17] [3]

Ada skeptisisme Kamukyanova. ABC News menyarankan bahwa Kamukyanova adalah tipuan yang dibantu oleh perangkat lunak editing gambar. [16] Diane Levin menganggap Kamukyanova sebagai contoh efek negatif dari objektivitas media. [18] [19] Untuk mengatasi tuduhan pengeditan gambar, Kamukyanova memposting video di YouTube dan muncul di saluran TV Rusia-1 [20] dan Saluran Satu Rusia [21]. Kamukyanova mengaku mengalami pembesaran payudara tapi tidak ada operasi plastik lainnya, [20] [22] [23] dan menyangkal bahwa dia memiliki tulang rusuk yang diangkat agar pinggangnya lebih kecil. [24] [25] Kamukyanova menyalahkan orang-orang yang tidak berhubungan dengannya karena mengubah foto dirinya yang lebih muda dalam usaha jahat untuk menyiratkan bahwa dia telah menerima modifikasi tubuh. [19]

Kamukyanova adalah seorang "instruktur" di School of Out-of-Body Travel, [16] digambarkan sebagai "sekolah internasional di mana instruktur kami menunjukkan kepada siswa bagaimana meninggalkan tubuh fisik dan perjalanan mereka dalam tubuh spiritual mereka." [16] "nama spiritual" adalah Amatue. [16] [17]

Dia adalah seorang komposer, penyanyi opera, dan telah merekam dua album musik zaman baru, Sun in the Eyes dan 2013 dengan menggunakan nama Amatue. [26] dia menulis sebuah buku, Astral Travel Amatue, tentang perjalanan astral yang dia buat pada tahun 2012 sebagai file RTF untuk diunduh secara gratis dari situs webnya. [27]

Pada tahun 2013 Kamukyanova menjadi subyek sebuah episode dari seri dokumenter Wakil Harian My Life Online berjudul Space Barbie. [17] [28] Pada tahun 2013 dia berpartisipasi dalam film dokumenter The Phase, yang dirilis di YouTube dalam 7 bahasa. [29] Dia telah membintangi peran utamanya dalam film layar lebar The Doll (2016), sebuah film horor yang diarahkan dan ditulis oleh Susannah O'Brien. Film yang juga termasuk Mindy Robinson dan Ron Jeremy ini berkisah tentang karakter Kamukyanova, pendamping yang dibuat dari boneka yang dibuat oleh seorang dokter untuk merekrut orang lain untuk dibunuh, dan kedua pria yang memintanya. [30] [31]

Pada bulan Maret 2014, Kamukyanova memiliki 997.812 penggemar Facebook, 10.030 pengikut Twitter, lebih dari 30 juta penayangan di YouTube, dan juga, pada Agustus 2013, ada 336.565 pengikut di jaringan sosial Rusia VK. [32] [33] [34]
Biar kalian gampang lihatnya, Saya udah siapin juga video musiknya yang… kalo Saya sih gak suka yah…
Nah, karena cewek jadi Barbie udah mainstream, kenapa cowok di Indonesia gak nyoba jadi Manusia Si Unyil? Pada oplas gih!